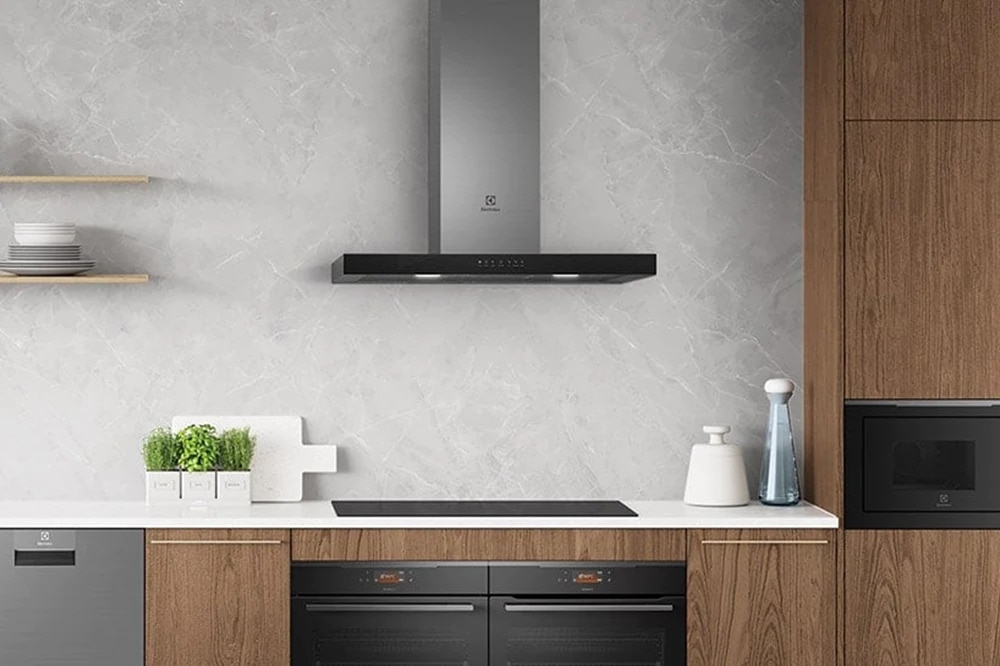 When it comes to buying appliances, it may have been some time in-between purchases and there are new features to consider. We have created a buying guide to help you select the right cooker hood for you and your home.


1. Introduction

When it comes to cooking, we can produce a lot of different smells or smoke and fumes depending on the dish. These may linger in the air or discolour your cabinetry, as well as have negative effects on your health. There are several different styles of cooker hood and ultimately it comes down to the layout of your kitchen and venting options.


2. Sizing

Kitchen Layout

When you start to think about your kitchen design you need to consider how you like to cook, as this should determine the location of your appliances.

Consider your cabinetry
Are you looking to have a more traditional design with your stove and oven paired one under the other or are you wanting to give your kitchen a more modern design by having your oven in a tower layout? We'd recommend positioning the cooker hood close to your stove but far enough away that you could have two cooks in the kitchen, one taking care of the oven and the other the stove.

Size of kitchen
When it comes to selecting your cooker hood, you may be limited to what area you have above your stove to use. Before you start looking at models, measure the space and kitchen ceiling so you can narrow down your selection criteria.

Besides, to choose a proper extraction rate, you should measure your kitchen area (height x width x depth) and multiply it by 10. The result is the extraction rate that may fit your kitchen size.

Work triangle or work zones
This choice will ideally come down to the size of your kitchen. When looking at a kitchen work triangle, you would have your appliances configured so that the line drawn between the refrigerator, cooking appliances, and sink/dishwasher creates a triangle which the cook can easily and efficiently move about the space. Whether you have a small or large space, you may look to have the area broken up into 5 zones, consumables, non-consumables, cleaning, preparation and cooking zones, this allows the space to work in unison of each other.

Purpose of your island bench
Sinks are the most common element found in a kitchen island with a dishwasher to the side. As years have gone by, the island bench has become the centre of the kitchen, it is the place where the work gets done and conversations with guests can happen.

Cooker Hood Sizes

Space
When it comes to selecting your cooker hood, you may be limited to what area you have above your stove to use. Before you start looking at models, measure the space so you can narrow down your selection criteria.

One that suits your stove
You ideally want a cooker hood that is exactly the same width as your stove or slightly larger. As it will need to be able to easily extract smoke and fumes whilst you are cooking. If your cooker hood is too small, you will find that it'll struggle to keep up and this may cause lingering scents and fumes, or for your smoke alarm to go off.


3. Types of Cooker hoods

Chimney hoods

Typically found in commercial kitchens, chimney cooker hoods are a statement piece in any kitchen. With the unit being completely exposed and not installed into cabinetry, a chimney cooker hood isn't for a household where you want your appliances to be heard but not seen.

Ideal for:
Large kitchen
Entertainer

Sizes
90cm

Easy Control with IQ Touch
Keeping the air clear with adjustable fan speeds is easy with IQ touch controls. Easy, intuitive touch control at your fingertips.

Smooth stainless steel
With a choice of dark or natural stainless steel finishes, our cooker hoods can be the statement piece in your kitchen.

Hob2Hood
The hood can automatically adjust itself according to the power you select on the hob thanks to Hob2Hood® technology to have the best extraction.

A high-performance engine for fresh air
The high-performance motor is able to deal with unpleasant smells like garlic or fish so that your kitchen air is always fresh and pleasant.

Refresh the air while you enjoy your meal
The silent yet powerful technology let you enjoy your meal in peace and quiet while it's eliminating cooking vapors at maximum power. Just press the Breeze button to reduce the extraction level to a minimum, the cooker hood will run for 60 minutes silently.